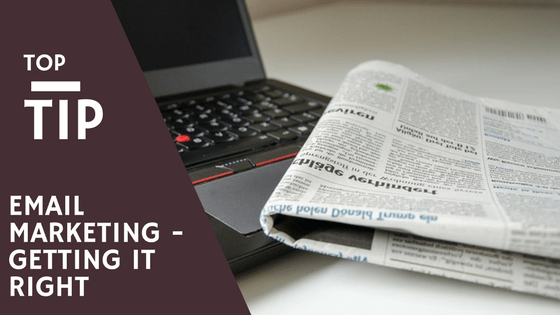 Email marketing can be an attention grabbing marketing tool – but only when done right!
There are so many different avenues in which to engage with your consumers and potential consumers, with the changing times however things such as newspaper ads and billboards are not as effective as receiving an email directly in to their inbox, setting of a notification alert on their mobile phone.
First step is to collect your email lists. Be careful though, many countries have laws on how you obtain your email lists, so only add those that have given you permission to add them – some email marketing companies actually ban you from emailing if these rules are broken. Current or past customer who have provided their details previously are ok to add. A sign up form on your social media profile and website can help you gather new subscribers and detailed information from them such as their business name or their gender (for gender related products). Once you have your lists in place you can start creating your email templates.
Something eye catching yet readable on desktop screens, mobiles and tablet will get more opens than those that are only readable on desktops. Basic, clean layouts make it easier for the content to be read, and keeping the content to a minimum is something to consider. You can link to an article or your website for them to read further. Many people do not spend too long reading emails unless work related and necessary, therefore the point of the content needs to be direct and contain a strong call to action. The use of bold writing and design to highlight important information or links. Short paragraphs no more than 3-4 sentences and focused on one idea while persuasive and using the right tone of voice for your customers.
By law all marketing emails must contain in the footer a contact address for yourself, an unsubscribe or change of subscription settings or update their contact information.
Set out a regular schedule for the emails to go out, with flexibility for special events, commercial events and to adapt the schedule for the most popular opening times – this can be found using the statistics provided by your email marketing provider. Too many emails can annoy the receiver and end up with them unsubscribing, the wrong
So now you have an idea how to get started, why not give it a try! If you struggle or run out of time to dedicate to designing email templates and creating content to fill them then give RedRite a shout. We can assist you with getting your name out there and your customers engaged.