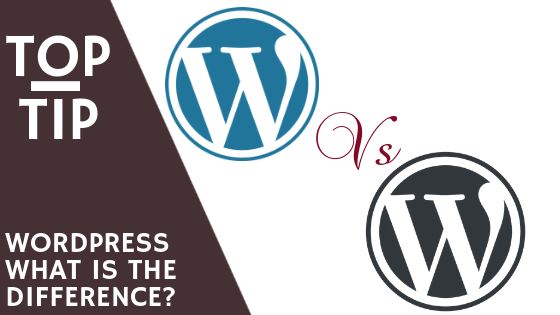 Mention a website building platform and guarantee WordPress will be one of the names mentioned, if not the first. First released in 2003, WordPress now has around 58% of the CMS market share depending which survey you look at (CMS is Content Management System), and around 75% of live websites are either built on WordPress .com or using the .org installation.
But what is the difference between .com and .org? And what is the difference between normal hosting for WordPress and WordPress managed hosting?
WordPress .com
This version of WordPress I hosted by WordPress itself, on their own servers, and there are a number of levels/packages of flexibility available.
Free Package – The most basic package is their free blogging package that provides you with a WordPress domain and a basic platform to blog. They only have 3gb of storage for this site so best for small sites.
Personal Package – Similar to the free package but this allows for a custom domain. A domain ca be bought via WordPress or with an external provider.
Premium Package – The minimally suitable website for freelancers and business owners who are wanting a platform to advertise their services. This is the first of the packages that allow monetization of the site, including a PayPal button – the Free/Personal packages do not allow any selling on their sites at all!
Business Package – Perfect for a growing business with unlimited storage and monetization allowed. WordPress advertises this as coming with SEO tools as well as Google Analytics integration. This Package also allows the uploading of Plugins and installation of 3rd party themes.
Ecommerce Package – Everything from above plus integrated tools to sell directly through your site. These integrations include currency tools, shipping methods and ecommerce marketing tools – social media and Mailchimp tools.
While perfect for personal blogging and a starter business this version of WordPress can get costly as your website grows, and to a point requires some HTML/CSS knowledge. This is because to achieve a personalised look you will need HTML to code the layout of the pages themselves.
WordPress .org
This is my favourite version of WordPress, and when you ask around in Facebook groups for websites, or how to on websites majority of commenters will be talking about this version. This requires a hosting package, as well as your own domain name but all it takes is a quick 5 minute install – which many hosting companies will do for you – and your site is up and ready to get going. The fees associated are usually an annual fee of your hosting and domain name, while the WordPress version itself is free.
This version allows you to install any number of themes, or to even code your own pages if you prefer using PHP templates page templates. There is thousands of free and paid for plugins that allow you to do anything from take a subscribers details, place a Cookie notice or host a course and membership on your own website.
Not confident in HTML/CSS/PHP – no worries! Page builders such as WPBakery, Divi or Elementor make creating any number of layouts possible, and you can easily drag and drop on to the page different elements such as images, text blocks, sliding images etc
This version of WordPress has been used for websites such as UPS, CBS Radio and countless other Top 500 Companies.
WordPress Managed Hosting
This is where most people get confused when looking for hosting for their WordPress website.
Managed Hosting for WordPress is usually slightly higher in price per month than normal shared hosting, yet cheaper than dedicated hosting. So what exactly is managed hosting and why is it more expensive than standard shared hosting?
Well, it is exactly what it states. The hosting company manage the maintenance of your website for you, running updates and controlling your Cpanel for you – which is perfectly fine if you do not know what you are doing but a number of times I have needed access to a Folder to install something for a client and the hosting company refuses access. The servers themselves used to host these sites is specifically configured to optimise Wordpress websites, and the support you receive is from expert support staff. A down side is though a number of plugins are blocked form running on Managed WordPress sites, usually ones that could potentially slow down your website – however sometimes these plugins are essential so load time has to be sacrificed.
Managed WordPress Hosting Packages comes with a number of pros and is really good for small business owners who need the technical support and want to leave things such as updates to someone else to worry about. However, sometimes you have to weigh the costs, would it be cheaper for you to get Managed WordPress Hosting, or to pay £75 for 90 minutes of training on how to keep on top of your plugins and the basic knowledge of maintaining your site?
So there we have it, the basics of WordPress Versions. Have you built your site already on WordPress? Then why not share your site on my Facebook page.
Not got a website yet but interested in using WordPress for your site, then give me a call to discuss my WordPress Website Building Packages, all designed to make building your site easy as possible.