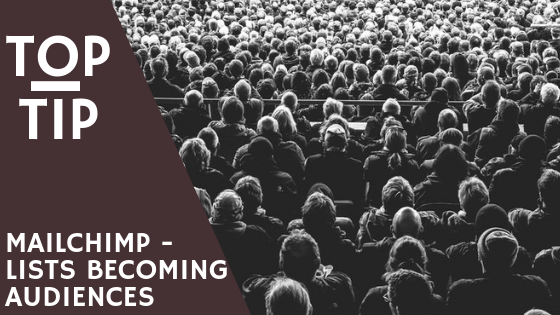 If you are an existing user of Mailchimp you will have noticed a change in your dashboard recently (March/April 2019).
If you are not an existing user to Mailchimp but have heard about it and currently looking into it, you may also notice that the previously used terminology no longer exists.
This is because Mailchimp has updated the way they present their lists, now calling them Audiences. According to their own resource on the new Audiences.
'Your Mailchimp Audience is much more than a list of email addresses'
Which is very true once you look in to the dashboard and all the new insights it offers you. The Audience dashboard now turns all those email addresses into people, giving you as much information as possible to help you better build relationships with your subscribers than ever before.
So, what are the changes to Lists and what do they mean?
As Mailchimp is quick to point out you have not lost anything, but your previous lists have been enhanced. The way you will interact with them has also been modified slightly.
Audiences are presented one by one. Previously when you visited the Lists tab you would see a list of all your lists, with a small break down of subscribers. Now though the tab opens directly to an Audience – which Audience is advised at the top in the dropdown menu. You can get the old view back by selecting All Audiences though.
Campaigns and reports are presented by Audiences. Now instead of a full list of all campaigns they are presents by Audiences, so you will need to change your Audience to look at your other campaigns. However, you can still look at all your campaigns at once – just select All Audiences in the dropdown at the top of the screen. The same change has been made to reports as well, allowing you to quickly see at a glance per Audience each related report for Campaigns, Automation, Landing Pages and Comparative (But that is a Pro Tool).
Clearly laid out insights and growth information. When you visit your Audience tab instead of the list of contacts you now see insights relating to the list (unless you decide to visit the All Audience View and then click on the list – this takes you to the old contacts view). Insights include:

Top Locations of your Subscribers

Email Marketing Engagement – how often your audience is interacting with your emails broken down in to percentage.
You can use these insights to target specific campaigns. For example, create a special offer for those that open your emails up in a particular location – be warned though they may have opened it on holiday. Or send an email asking if they still want to be on the list by sending a campaign just to the bottom percentage of those who open your emails.
To view all your contacts, just click on 'View Contacts' at the top of the page and this will take you to the traditional view.
The benefit of these changes – although they do not seem much – is that you can now see at a quick glance different segments of your Audience to target and understand how effective your campaigns are. The new dashboard gives you tips to improve your Audience growth, and a simple quick can have you creating a campaign specifically targeted. No more having to go through the segmentation steps first.
If you are still not 100% sure about the new dashboard, or about using Mailchimp at all, then why not join me for a Digital Tech Consultation. 90 minutes of one on one time, where we cover the areas of Mailchimp you are uncomfortable with and would like to learn more about. Instead of a standardised course, this consultation is tailored to exactly what you need. Book your consultation today!