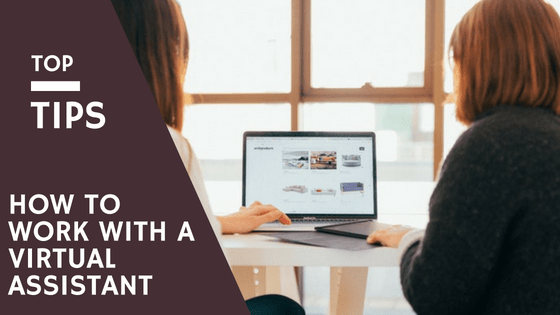 Be warned this holds my personal opinions which some may not like
One of the most common questions I get asked when discussing being a Virtual Assistant with people is how does it actually all work though? Like, how do they send me the tasks, how do they know what tasks to send me, and the questions go on. If you are not sure what tasks to outsource, then check out my Services Page for some ideas.
It can be a daunting task knowing you are handing over responsibility of your business, even just parts of it, to someone else to manage. Many people who have built their business all on their own can struggle with letting go, so knowing how the process works will help ease some of that anxiety.
The biggest success factor of working with a Virtual Assistant is trust, although we don't expect you to trust explicitly from the word go – because it is very rare you trust someone after meeting them the first time – a little bit of trust and an honest open working relationship can quickly develop that trust to a point you wonder why you didn't consider hiring a VA before!
There are so many articles online that discuss working with a VA but I found none of them really explained things from our point of view and the ways we feel comfortable working with you. So, here are 3 important factors I feel create the best working relationship between a VA and their client.
Communicating is Key
Usually one of the first questions asked is how do you communicate tasks to a VA? The answer is simply yet very broad. What ever works for you and the VA. Some VAs prefer to use project management or CRM systems such as Trello or Slack which allow you as the client to enter a task, and then communicate any information relating to it. You can then track the process of the task as the VA works on it.
Some, like myself, are happy to just use email or Whatsapp to confer, alongside weekly/monthly telephone calls to update you on the progress. If you have a preference it is always best to discuss this before you get started, so you both understand what is preferred and why.
Regardless of the tools you use what is important is that all the necessary information to complete the task, and your expectations are clearly communicated. Avoid sounding patronising and doubting in their ability to complete the project and offer that bit of trust that they can do it – you wouldn't have hired them if you didn't feel they could.
As Virtual assistants we feel more valued if our clients talk to us, let us know where they want to take their business, any problems they are coming across and anything that could help us improve the services we offer, as well as have a greater understanding of you and your business.
Sharing is caring.
Sharing necessary information and documents is vital to getting a project off the ground, and if your assistant has them all upfront then there is less time and stress on both sides later on. You can share via email, or via a transfer system such as WeTransfer. A more efficient way and beneficial for long term work is creating a shared folder in a system such as Dropbox to keep everything in one place. What is better is if it can be integrated with the project management system to keep files and information linked with the task associated with it.
I strongly suggest sending files though with identifiable titles. Instead of xyz123.doc, save the file as Project A Information.doc this way it makes it easier to locate the file and link it to the required project/task. Also if you update the file change the title to state the date updated or which version it is, there are a number of times I have been sent the same file yet it has a number of changes from clients and when looking for them later it has taken tracking the original email to identify which is which version. I had one client who send each file with v1, v2 etc afterwards and this made it so easy for the pair of us to track everything.
Respect
It seems a silly thing, but respect goes a long way to building a trusting long lasting work relationship.  I hear so many heart wrenching stories of Vas who have been treated like a lackey or as close to a coffee girl as you can get remotely. It wears a person doing being treated like that, especially one who is also a business owner and is there to help you with yours. We have a far better understanding of the trials and tribulations that a business owner goes through, allowing us to sympathise with you and offer solutions that actually work. We, like you, have working hours, we have times when we are happy to contacted, and we also have families and other commitments.
More and more VAs are ending agreements with their clients because of this lack of respect. We accept it can be hard to let go at first, but if after 6 months you still can not let go and are micro managing then that VA is not the one for you because no trust has been built.
Not all VAs agree with my methods, feeling their personal lives should be kept separate, but I am upfront with my clients about my children. about my uni studies (which will end in September 2019) as well as my medical conditions. So, they know in advance why I have the hours I do, why sometimes I am delayed in replying and I feel it helps them get to know me as a person better.
Working with a Virtual Assistant is no different to working with any employee/Business partner, you share necessary information with them for them to complete their assigned tasks, you chat to them about the tasks so they know what your expectations are and you be nice to one another. The only difference is the software used and the fact meetings have to be done via video conference (unless like some of my clients you live close to one another and can meet for coffee). The hardest part is you can not watch over their shoulder while they do the work like you might do with an in-house assistant.
So, what is now stopping you from working with a Virtual Assistant?